Pioneer East
Neighborhood
LOCATED IN
Ridgefield, WA
Ridgefield is in the pastoral, rolling hills countryside of northern Clark County, Washington. Ridgefield is notable for the significant Native American and Lewis and Clark Expedition history of the area but is also the home of the Ridgefield National Wildlife Refuge, a primary reserve for migrating waterfowl on the Pacific Flyway, and the Ridgefield High School "Spudders" (reflecting the area's potato-farming heritage). If you are looking for a vibrant community to call your home, Ridgefield has opportunities for everyone.
Plenty of Recreation & Activities
Craving the outdoors? Choose from a variety of parks, trails, and other outdoor recreation in Ridgefield. Feel like shopping or dining out? Wineries, breweries, a trip to the Farmer's Market, or a visit to historic downtown are among the multitude of options to choose from.
Ridgefield National Wildlife Refuge
Covering 5,200 acres of marshes, grasslands, and woodlands, the Ridgefield National Wildlife Refuge was established (alongside three other reserves in the Willamette Valley) to provide a wintering stopover for migrating birds whose usual Alaskan nesting sites were destroyed by the 1965 earthquake, particularly Canada Geese.
It sits on the Columbia River floodplain, and the U.S. Fish and Wildlife Service manages several walking trails in the region. The Oaks to Wetland trail begins at the North of Main Street, where it meets NW 291st Street, and is currently a 2.8 mile out and back route to the Lake River overlook, although a five-mile circuit should open soon. A little way along the trail, you can see the Cathapotle Plankhouse, a reconstruction of a traditional Chinook cedar dwelling.
Farmers Market
From May to October, Ridgefield Farmers Market takes place in Overlook Park on Saturdays between 9 am and 2 pm. Stalls include local produce, seedlings, jewelry, soap, flowers, baked goods, and home décor items.
Live bands entertain the locals shopping for bargains and tasty produce. There are seasonal events such as the Halloween Scavenger Hunt and the Big Paddle, a mass kayaking and canoeing meet.
First Saturdays
On the first Saturday of each month, downtown Ridgefield hosts popular events ranging from movie marathons to Spring Festivals to Bluegrass concerts; there's a host of fun things to do and explore. There's a multicultural day celebrating diverse communities, including the town's Native American population, and Make a Difference Day, where you can learn about Ridgefield's non-profit and charitable organizations and activities. Check out the Ridgefield First Saturdays Facebook page for more.
Outdoor & Adventure
As well as Overlook Park, which hosts both the Farmers Market and First Saturday events, Ridgefield contains a half dozen city parks, a community park, and a skate park.
Downtown, Davis Park hosts outdoor movie events in the summer and has picnic tables and a children's play area.
Abrams Park is a 40-acre site with facilities for baseball, softball, soccer, and a horseshoe pit, and a disc golf course. You can book its picnic shelter, Bennett Hall for private sports events – it comes with a kitchen, tables, and seating.
If you're looking for a place for a picnic, Eagle Park is situated at the edge of the Nature Refuge and offers quiet and great views.
To let your pets run free, head for the City of Ridgefield Dog Park on Hillhurst near Great Blue Road. There's also the Skatepark and the 53-acre Ridgefield Outdoor Recreation Complex (RORC). The latter hosts six multipurpose sports fields, a playground, and walking trails.
Finally, the Community Garden offers locals the opportunity to grow vegetables, herbs, and flowers on shared allotments – it's a popular facility for growers of all ages.
Fairgrounds & Entertainment
Clark County Fairgrounds / Event Center at the Fairgrounds
Each summer, folks from around the region descend up the Clark County Fairgrounds for the annual fair. The amphitheater host concerts throughout the year and the Event Center at the Fairgrounds put on larger events. Annual events include the Washington State Horse Expo, Greater Clark County Kennel Club All Breed Weekend, Clark County Women's Show, and Vancouver Gun Show, to name just a few.
Ilani Casino Resort
Owned by the Cowlitz Indian Tribe, ilani opened in the spring of 2017. It is one of the larger casinos in the Pacific Northwest with 100,000 square feet of gaming space. What's more, the property includes a 30,000 square foot events center and a 2,500-seat entertainment venue. They are open 24 hours a day, 7 days a week.
Tri-Mountain Golf Course
Tri-Mountain is a public course in Ridgefield. It is well-maintained and known for being one of the better values in the Vancouver/Portland area. Golfers enjoy incredible territorial views of the nearby Cascade Range – including scenic views of Mt. hood, Mt. Adams, and Mt. St. Helens – during their play on the course as well as from the restaurant. Players need not worry about forgetting their gear; the clubhouse shop carries a wide selection of equipment and clothing.
Wineries
The Pacific Northwest is an important wine-growing region, with winery visits another popular local attraction. The Willamette Valley to the south and Columbia Gorge area, fifty miles to the east, is particularly fertile. Their damper climates produce the most Burgundy-like reds available in the United States.
Closer to home, there are ten boutique growers near Ridgefield. Here are some of the best:
Bethany Vineyard

 

– With 25 acres of vines and a picturesque 75-acre estate to roam, this is one of the prettiest wineries. Among the spaces on the winery's grounds – the tasting room, patios, and lush lawns – the floating patio on the pond stands out as one of the visitors' favorites. Bethany Vineyard produces Chardonnay, Syrah, Pinot Noir, and Cabernet, growing small blocks of a host of varietals. They have a subscription-based wine club with exclusive access to the tasting rooms.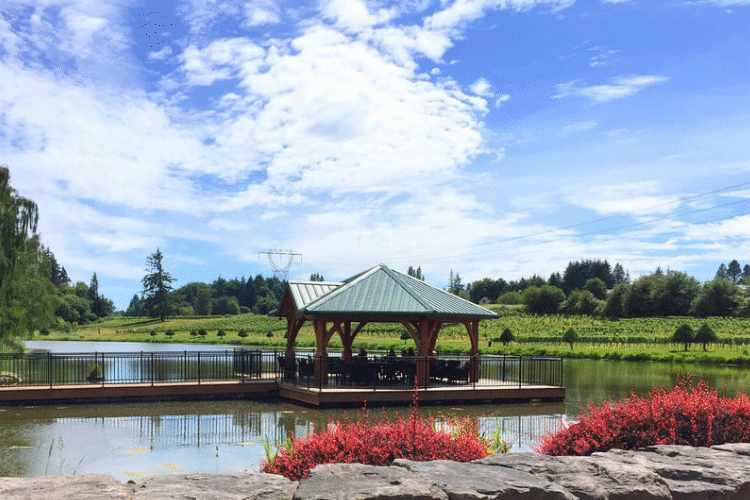 Confluence Vineyards and Winery

 

– Founded by Greg and Jae Weber in 2008, this grower keeps it compact and simple with five regular wines and two reserves. Confluence gest its name from the meeting point of two rivers. The vineyard is situated just off N 67th Avenue.
Gouger Cellars Winery

 

– Built in a converted firehouse, Gouger Cellars' restaurant's specialty is a baked brie, ideally paired with a glass of their dark cherry Barbera 2018. Their menu also comprises hot crab or artichoke dips and a tasty burger. They have patio and rooftop seating for sunny days, and their wine offering leans towards sparkling varieties, including a rose, pinot noir, and even a Syrah.
Stavalaura Vineyard

 

– As well as producing wines from other locally-sourced Washington state grapes, Stavalaura concentrates on three varieties from their vines: Pinot Noir and the less well-known Zweigelt-Rebe and Golubok. The latter is one of the big draws, a rare Russian varietal producing a unique deep-red wine with intense flavor.
Three Brothers Winery

 

– A long-established and award-winning name in the region, Three Brothers have an extensive list, including a double gold medal-winning 2009 Tempranillo and a 2018 Gewurztraminer. Their food menu is heavy on pizzas and flatbreads, but it's worth leaving room for the cheesecake with their own Tempranillo sauce.
Windy Hills Winery

 

– The Windy Hills Winery was first a Christmas Tree farm, but estate owner Dave Kelly switched to producing wines in 2013. You won't find vines growing here, but their welcoming establishment has a range of full-bodied reds and crisp whites, all made from locally sourced grapes, including the celebrated (and sunnier) Walla Walla Valley to the east.
Ridgefield Schools
Ridgefield School District aspires to be the state's premier district, leveraging strong community partnerships to provide each student with personalized learning experiences, opportunities, and skills that ensure success and unlimited possibilities.
Rosauers Supermarket
Rosauers began as a Spokane-based business in the 1940s when Merton Rosauer purchased his first little grocery store. Ridgefield hosts its very own Rosuers with a variety of grocery items including produce, bakery goods, and a large deli and floral department.
Contact us with questions or to schedule a tour
360-521-1615
Pioneer East Sales Office
7143 South 11th Street
Ridgefield, WA 98642